The Southern: Photographer unveils photographs of pivotal Shawnee Forest protests
Two activists bury themselves up to their necks to block a logging road near the Fairview timber sale area of the Shawnee National Forest, in Southern Illinois, around 1990. Orin Langelle/Global Justice Ecology Project
CARBONDALE — In 1990, Orin Langelle arrived in Southern Illinois to photograph an escalating fight over the future of the Shawnee National Forest.
Environmental activists were converging on a logging site near the Fairview Christian Church, where the U.S. Forest Service had promised timber to the Missouri-based East Perry Lumber Company.
Forest Service officials and local loggers claimed the project would bring much-needed jobs to economically-depressed Southern Illinois, and reminded the public that national forests were created to provide both resources and recreation.
Environmentalists replied that Illinois could lose the Shawnee's unparalleled biodiversity, and that timber sales were not nearly as profitable as the Forest Service suggested.
For 79 days, activists camped out on an access road, blocking the timber harvest. The encampment attracted local, statewide and national attention, as dozens were arrested and one demonstrator was injured by a logging truck, according to the Chicago Tribune.
Throughout it all, Langelle documented their struggle.
"We were not supposed to be there. There were court orders saying we should not be there," Langelle said. "The simple act of being in the forest, defying orders to leave — we were all protesting."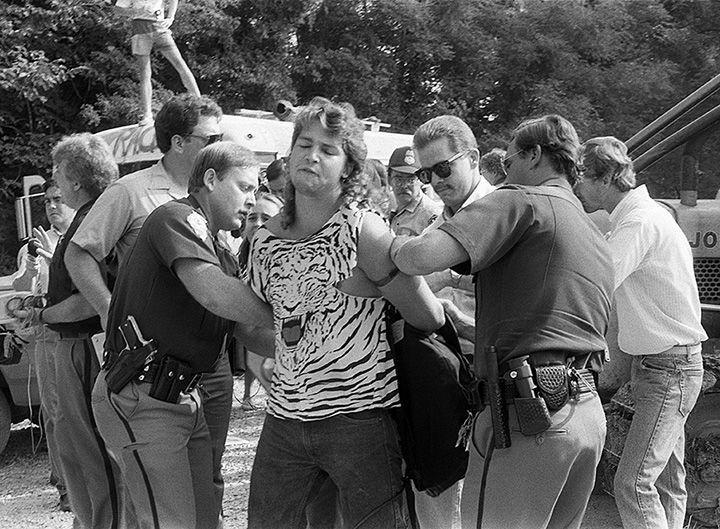 Langelle calls himself an "activist photographer."
While the news media preoccupies itself with objectivity, Langelle seeks to actively support his subjects, and earn their trust. He focuses on the economically and environmentally oppressed, and has photographed indigenous people resisting destruction and displacement across the country and the world.
Langelle returned to the Shawnee repeatedly, in 1990 and 1991, to follow the logging debate.
His photographs provide a window into the culture of the 1990 encampment, and Southern Illinois: impromptu concerts on Sunday afternoons, donations of food from local organic farmers, and the intermingling of local activists with "radicals," who came to support the effort on behalf of groups like Earth First!.
"It brought people in the community together," Langelle said of the encampment. "The response was so, so good. That's why, I think, the Springfield newspaper called it 'a popular uprising.'"
The next day, as the Forest Service and East Perry Lumber Company began logging, an attorney won a temporary stay on the timber sale, halting the project for a year. In 1991, that stay was rescinded, and the cutting proceeded.
But protesters won a larger battle, Langelle said, helping shift public opinion on logging in the forest. The Illinois U.S. Congressional Delegation requested the Forest Service halt logging in the Shawnee, and an injunction was later granted, prohibiting logging and oil and gas drilling there from 1996 to 2013.
Logging has since resumed, with 37 timber sales in 2013, and several contracts since then, covering between 40 and 90 acres of the 280,000-plus acre national forest.
And again, some citizens are opposing new logging projects.
"Now that the 17-year injunction against logging has been lifted, the Forest Service has wasted no time in generating a rapid-fire succession of projects that include commercial logging of pines and hardwoods, spraying herbicides such as glyphosate over thousands of acres and scheduling burns for more than 15,000 acres of forest per year," wrote local filmmaker and environmental activist Cade Bursell, in a letter to the Southern, last fall. "If you enjoy the Shawnee National Forest, now is the time to get involved."
In all, he'll share about 20 photos from his time at the Shawnee encampment, he said, plus pictures and stories from struggles for social justice in Europe, Canada, Mexico, Paraguay, Brazil and Chile.
His return to Carbondale will be an opportunity to reconnect with people he hasn't seen in decades, Langelle said.
"I became friends with people at that encampment," Langelle said. "One of my big messages is, if you're going to do photography and get scenes like I've got, you've got to have peoples' trust."
Langelle's photographs will also be featured in an upcoming documentary by Bursell, about the Shawnee Forest, he said.